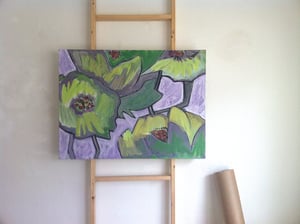 $

850.00
Lime Green Poppies
21" x 28" x 1.50" Canvas ~ Hang Ready
©2014 Will Wieber
Whimsical... Floral ...Bold...
➸ More Images
▲Custom Crafted Canvas Frameworks are the basis for these paintings:
Each canvas framework is custom crafted by me to ensue that the base of the paintings are solidly constructed. (far superior to a craftstore canvas). These are typical of those found in Fine Art Galleries.
Papaveraceae: Argemone mexicana
☀ Expressed Impressions for your home decor.
Will Wieber ◪
Professionally trained artist for 34+ years
School of Visual Arts, New York, New York
"For me abstract art is a simple direct expression of line, area and color, as well as an emotional experience. As with any abstraction, the viewer is free to interpret the work each in his own way."